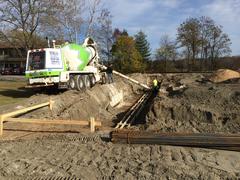 If you have driven past our office lately at 453 Grand Avenue in Schofield, you will have noticed some construction activity behind our building.

We recently broke ground on an 8,000 sq.ft. office building which will be located between our office and the Eau Claire River. One of our long-time commercial tenants have outgrown the space they have been renting from us and this will be their new, larger location.

However, with this large project in process, parking and driving around our office has become a challenge. We do apologize for that.

Remember, for many services you don't have to stop by our office. Rent payments can be mailed in (via check or money order, please don't send cash). You can also pay your rent via bank account or credit or debit card online! From our HelpRent.com website, go to the top menu bar and under Tenant Resources, you will see the link to Pay Rent.

Some of our tenants appreciate the convience of having the rent done as a monthly automatic payment from a bank or credit card account. You can set that up through the online rent payment system, or we have a form that you can request from our office staff and we will set it up for you.

Our target date for completion of this construction project is June 1st, 2016. So, thank you for your patience when visiting our office until then.