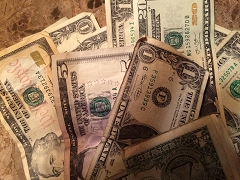 As spring is starting to turn into summer and schools are letting out, this is the time when we have most of our move-outs and move ins.
Although we hate to see our tenants move out; when they do, one of their biggest concerns is their security deposit. Our tenants' security deposits are their money. Not only do we feel they should have it returned in full when they leave, it is actually less work for us to return the deposit than to withhold it.
Under Wisconsin law, the Security Deposit must be returned to the tenant within 21 days of the end of the lease (sooner if the tenant vacates early AND we find a new tenant for the unit). A landlord can withhold all or part of the deposit for certain items, but if they do so, they have to include an itemized list of withholdings. Items that can be deducted from a deposit include unpaid rents, damages done to the unit, and certain unpaid utility bills. Landlords can also establish other items that can be deducted from a deposit through the use of Nonstandard Rental Provisions.
In order to ensure our tenants get their full deposit back, here are some helpful hints:
1) When we learn that you will be moving out, we will send you a list of items we look for when doing our check-out. Some of the most common charges are for failing to return keys, burnt out light bulbs and removal of garbage/items left behind in the rental unit.
2) Make sure that your rent is current and there are no outstanding late fees or other charges. Many tenants ask us to use their deposit as their last month's rent. That is not allowed per the lease. Although we can apply the deposit toward unpaid rent, it is there to cover other possible damages and charges. If you do not pay your last month's rent, you will be charged a late fee and may be subject to a double rent charge as allowed by law.
3) Make sure that all of your utility bills, especially the water bill, is paid in full.
4) Make sure that you vacate by noon on the last day of your rental agreement and either drop all of your keys off back at our office, or let us know if you are leaving them in the unit.
5) Make sure that we have your forwarding address. If we do not, we have to send the refund check to the apartment you vacated. This will then be forwarded to you by the post office ONLY if you leave a forwarding address with them.
6) If there are multiple tenants on the lease and you are moving to different locations, let us know who the check should be sent to. By law, the check will be made out to all of the parties on the lease so make sure that you make the proper arrangements.
We would prefer to return the full deposit to every tenant every time. It makes the tenant happy. And, it is less work for us because then we don't have to go through the work of itemizing the withholdings.